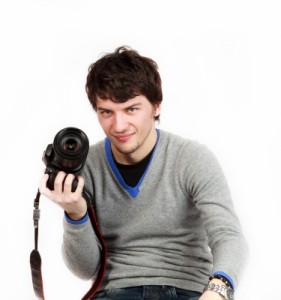 Today we're going to talk about manners and when I say "we" I mean me. You … are going to listen.
So, you've got a DSLR and a couple of lenses and a memory card or two. You're armed with a version of Photoshop Elements or maybe you've discovered that god-awful online free editing program that I will not honor with a mention.
You are anxious to make a name for yourself and gain the reputation of being a good photographer.
You take your camera everywhere. And when I say "everywhere" that includes weddings. As in … you received an invitation to be a guest.
Oh, you are SO excited! What an opportunity! You can take your camera and lenses and take some wedding photos while you are there. Oh, what a brilliant thought – you can put the photos on a disk and give them to the bride and groom as a wedding gift!
You prepare carefully for the wedding. You look at the websites of some well-known wedding photographers and see some nice photos. Perhaps you can steal the bride and groom for a few minutes and get some photos just like these!
The wedding day arrives and you go to the church a little early to see the bride. The professional photographer is there and you observe him taking some photos. He leaves for a bit and you try to do some of the same photos he did. It looked pretty easy and you like what you see on the back of your camera and show the bride. She is really excited about them.
It's time for the ceremony and you get seated early so you can be as close to the front as possible. You take a seat right on the aisle so you have a great viewpoint. When the bridesmaids come down the aisle, you lean out into the aisle to take their pictures. Then you do the same for the bride and her father. You see the professional photographer shooting your way, and you think maybe he got you in his shots, but he should have known better and stood somewhere else. You can't believe your friend hired this guy. So far he's just done easy stuff that you have been able to duplicate, no problem.
After the ceremony, it's time for the formals. You're not in the family or the bridal party, but you stick around to watch and maybe get a few shots since you are going to give the bride and groom such an awesome gift. The professional is doing a pretty good job of arranging the groups of people (thank goodness he seems good at SOMEthing), so you stand a little behind him and take a few shots while he is shooting too. You check a few on the back of the camera and are really pleased how they look. More excitement!
A couple times you are able to get really close to the photographer so that when the people in the photos are looking at him, it looks like they are looking at you too. But sometimes that doesn't work and you wave your hand really quick and say "look over here, please" and then you get a REALLY good shot. Wow, that worked great, so you do that for each of the rest of the formal shots.
A couple of other people with cameras start doing the same thing and you smile at them. They thought that was such a good idea that they are doing it, too. They don't have a pro camera like yours, so your photos will be tons better, but that's okay, they obviously see that you know what you are doing since they keep letting you go first.
While the photographer is packing up his gear, you hang out to chat and pick his brain a little. He doesn't seem that friendly and now you REALLY don't get why the bride hired him. Maybe he was really cheap. Honestly, you start to wonder if he even knows what he's doing.
At the reception, you're feeling really positive about how things are going, so you get right in there during the cake-cutting and the dancing and the toasting and the garter-tossing and bouquet-throwing.
By the time the reception is over you are bursting with excitement. You showed some pictures on the back of your camera to a lot of people at the reception and they all asked you for copies of them. This photography stuff is pretty cool.
When you get home, you put the photos on your computer and upload them to Facebook and tag the bride and groom and everyone you know. You have over 500 photos that you put online and you post a message that you will make copies for everyone.
By the next morning you have 16 requests in your inbox for a copy of the photos and there are lots of amazing comments on the photos. You are SO happy!
OK, hang tight while I step up on the soapbox.
If this is you, get as far away from me as you can, because I despise running into people like you when I shoot a wedding.
I am the hired photographer. You are not.
I just spent the last 8-10 hours trying to avoid getting you in my shots. You annoyed the heck out of me with your questions and you delayed the formals with all of your "look over here" pleases until I was 20 minutes behind in releasing the wedding party so they could get to the reception.
At the reception you acted like you worked for me and even WITH me. You jotted your email down for people and promised them copies of the photos.
Within hours you had 500 photos on Facebook so that they could be copied and downloaded and made further promises to put them on CDs for whoever wanted.
You just effectively undermined my authority during the wedding day and stripped me of any possibility of selling any prints.
You also just set a precedent for the price of digital files. I charge 4 figures for a disk of digital wedding files and you just gave them away for free.
So, forgive me if I don't want to chat with you.
Forgive me for not wanting to let you pick my brain.
Forgive me for not wanting to give you any helping hints.
I'm too busy trying to pull the knife out of my back to be friendly to you.
(To be continued…)