I'm on a face-to-face education kick right now. I always have been; in choosing my own educational resources, I prefer face-to-face education, but after being exposed to some requests for online education for subjects that just should not be attempted online, I decided to be a little more vocal about my support of in-person classes.
This article should be of particular interest to photographers in Ohio as most of the instructors I'm about to talk about are fairly local.
Fortunately, I don't have a bad word to say about any of the classes I attended this year. Why? Because I did my research. I didn't land in any of these classroom seats by chance, I researched the classes available and spent my money wisely. Some of these instructors were at conventions and some were hosted by a PPA affiliate. That's sort of the requirement for me – it's highly unusual for me to attend a private class with no affiliation with an organization, although for the right instructor, I will skirt around that preference.
~~~~~~WOOTNESS REVIEWS ~~~~~~
ANN MONTEITH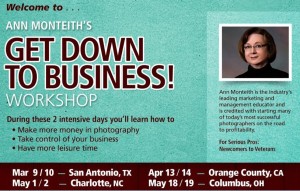 At the beginning of the year, I reviewed where I was with my work and decided that I needed a business class and an art class. Hands down, the no-brainer choice for me for the business class was Ann Monteith. This lady knows her stuff and even though I attended the Marathon Press "Make Money Now" tour in Columbus, Ohio a few years ago, which featured Ann as its speaker, I went ahead and signed up for Ann's pre-conference "Business Basics for Portrait Photographers" at Imaging/IUSA 2014. Ann has a no-nonsense approach to pricing for profit. It makes sense and is based in real accounting principles. If you don't know a thing about the income/expense side of your business, try and find a class that Ann teaches, you'll walk out of there a whole lot less confused. She is teaching the same pre-conference class at IusA 2015
To see Ann's upcoming teaching schedule, click here: http://monteithworkshop.com/anns_2015_schedule.html
OHIO people: Hear Ye! Hear Ye! She will be teaching in Columbus, Ohio May 18/19: http://www.annsworkshop.com/
 KATE HIGDON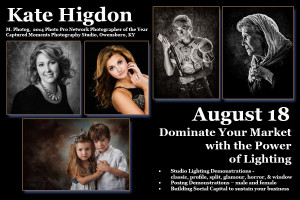 I must preface this review with the disclosure that I was a student with Kate at the 2013 Judges Workshop and I'm a member of her home state organization, Photo Pro Network, where she is the Photographer of the Year. We aren't BFFs, but we hug when we greet and have a similar affection for girly sparkly things, and of course, we both adore print competition, so she was already a winner in my book.
Now, down to the nitty-gritty. Kate is funny, she speaks on a level that does not intimidate newer photographers, yet her presentation is filled with excellent technical lighting and posing advice. She is a current PPA Diamond Photographer of the Year and an excellent example for new competitors. She walked us through some of her lighting setups and told us the back stories behind her concept development of her print competition entries. Helping out was husband Jason Higdon, a PPA Platinum Photographer of the Year. Together they worked well and kept an amusing line of communication going between themselves and the audience. The only thing negative I can say is that they were the presentation at an affiliate dinner meeting, which ran about 2 hours, and I wanted to hear them speak for a lot longer. I'd be in line to sign up for a full day course if they offer one.
Kate & Jason's website: http://www.capturedmoments-ky.com
JON & LINDA JOHNSON

Another disclaimer: Jon and Linda are members of my home state organization, the Professional Photographers of Ohio. I have been a fellow board member with Jon and see them both several times per year at our events. I've thought they were good people for a long time.
Jon & Linda taught an all day program on Boudior photography. Now, this isn't really an area that I normally shoot, but it's an area that I definitely wanted to learn more about. I wasn't sure if I was comfortable with it and I certainly didn't have the skill set it was going to take to make my client comfortable. This was one of those pursuits of knowledge & skill set that was "outside my box."
There were two things that threw this class into the "blew me away" category. The first was when Jon held aloft a copy of "Body Parts" by Don Blair. Anyone who touts that book has a true understanding and appreciation for traditional photography skills, and I was delighted to see that Jon encouraged the class attendees to refine their skills through its use.
The second thing that blew me away was the entire rest of the 6 hour class. Jon and Linda based the class around a live shooting session with a model. During the entire program, no one watching would be able to tell that the instructors were working with a fairly scantily-clad model. They were highly respectful and professional and pretty much as unruffled as if they were shooting a bowl of apples or bottle of wine. They were excellent examples of how to conduct a Boudior session. I was impressed. Uber impressed. So impressed that I would have no problem at all arranging for my own session to be photographed by them. I think that says a lot.
It goes without saying that Jon and Linda are masters of their craft and teach their classes in a way that reflect that. Corrective posing is one of their strong skills and they spent a good portion of the class demonstrating ways to shoot, light and pose their clients in the most flattering way possible, a mandatory skill for boudoir photographers.
Jon & Linda's website is here: http://jonsphoto.com/

MICHAEL TIMMONS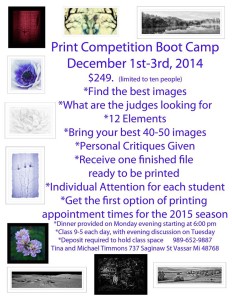 I've saved the best for last, here. This was not only a class, this was an investment in my education; both of time and money. The class was two days long and was held almost 6 hours away from home, so it required a pretty lengthy drive as well as 3 nights of accommodations.
First of all, I feel really sorry for those of you that considered coming to this class and didn't. But in a way, I'm glad you didn't because this class wound up small enough that  it was totally customized to the needs of the students. I walked away from this class (which was really more like a small group mentoring) with my head swimming. It's been a few weeks since I've returned home, and not a day goes by that I don't work on something that I learned from Michael. (Due to the small class size, Michael took over primary instructor duties).
Print Competition is my passion. Any opportunity to take a print competition class causes me to jump for joy because there aren't many of them out there. I teach them myself, and when the chance to learn from Michael Timmons appeared, I jumped on it. Anything I can learn better, I can teach better.
My eyes were opened in a very non-confrontational way – mainly in the course of learning new skills – to the fact that my skill-set for prepping competition images was lacking. Although I've done fairly well in print competition in the short number of years I've been involved, I became aware of a variety of things that I've been doing that have most certainly been holding me back.
I also had the added bonus of seeing my work turn into something I had never before been able to visualize. With some simple retouching techniques, some truly stellar images came to life. Is that bragging? I don't mean it to be – I just kept saying "thank you" in a surprised and delighted voice. I couldn't believe that the images we worked on were really mine. For the first time ever – I felt I could create art. And that's probably the primary reason I jumped to study with the Timmons. They have a reputation and intent of helping their students see the art within their images. If there was such a thing as "The Wootness 5 star Award"  – this class would get it.
Now, here's the bad news. Michael is heading towards a VERY busy year as PPA president and I believe his teaching schedule will not be very flush with opportunities for students. I do know that he and Tina will be offering a week long class at Texas School of Photography in April/May 2015, but for the rest of the year – I think ya'll are out of luck and will need to stalk their 2016 schedule.
Michael & Tina's website:  http://theportraitgallery.net/

~~~~~~WOOTNESS HONORABLE MENTIONS ~~~~~~
MIKE PRICE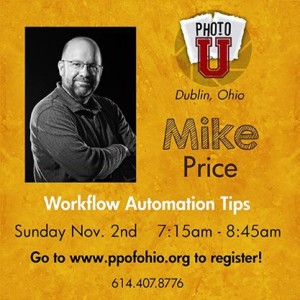 At the recent PP of Ohio fall conference in November, I drug myself out of bed to sit in a class at 7:15 AM. We call these "Early Birds" and most often those speakers who are beginning their journey to fulfilling their Craftsman Degree requirements will find themselves placed into this part of our schedule. Mike's class was on workflow automation; not a topic I was dying to see, but Mike had impressed me with the energy and passion he exhibited in my dealings with him through the Professional Photographers of Central Ohio and I wanted to support him in his first speaking gig for a PP of Ohio event.
Well, knock me off my seat and serve me breakfast on the floor – this guy was phenomenal! I have never seen a more organized speaker. His presentation was professional, thorough, flowed extremely well and it was perfectly on point. He was able to answer every question posed to him and made a topic with a high probability of being dry, fairly interesting. I went away with a few new tidbits of information that I've been able to work into my own workflow, even though it's fairly similar to Mike's to begin with.
If Mike Price shows up on your list of proposed speakers – book him! If you have the opportunity to hear him speak – jump at it – you won't be disappointed.
Mike's Website: http://www.fairfieldphoto.com/
THE AKRON SOCIETY OF PROFESSIONAL PHOTOGRAPHERS

I don't belong to a local affiliate, although if I did, this group would be the closest to me and the one I would/should join. I've noticed over the past year that they have been hosting a series of very good speakers and two of the reviews above (Higdons & Johnsons) were from classes that they organized and sponsored. Even if you aren't interested in joining the group – you may still attend any of their presentations (for a higher non-member fee). They're a group to keep your eye on, for sure.
ASPP website: http://akronphotographers.org/